Hypertriglyceridemia Epidemiology Forecast to 2030

(Albany, US) DelveInsight has launched a new report Hypertriglyceridemia Epidemiology
DelveInsight's Hypertriglyceridemia Epidemiology Forecast to 2030 report delivers an in-depth understanding of the disease, historical and forecasted Hypertriglyceridemia epidemiology in the 7MM, i.e., the United States, EU5 (Germany, Spain, Italy, France, and the United Kingdom), and Japan.
Hypertriglyceridemia refers to a fasting plasma triglyceride measurement that is increased, typically above the 95th percentile for age and sex along with additional quantitative or qualitative lipoprotein abnormalities. Patients can fluctuate between hypertriglyceridemia states: given appropriate metabolic stress, mild or moderate hypertriglyceridemia can deteriorate into severe hypertriglyceridemia. The two main sources of plasma triglycerides (also known as triacylglycerol) are exogenous (i.e., from dietary fat)—carried in chylomicrons, and endogenous (from the liver)—carried in very-low-density lipoprotein (VLDL) particles.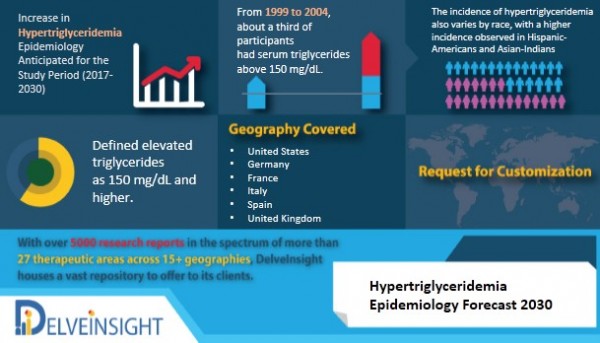 Request for free sample page:- https://www.delveinsight.com/sample-request/hypertriglyceridemia-epidemiology-forecast
Hypertriglyceridemia Epidemiology Perspective by DelveInsight
The Hypertriglyceridemia epidemiology division provides insights about historical and current patient pool and forecasted trend for every seven major countries. The Hypertriglyceridemia epidemiology data are studied through all possible division to give a better understanding of the Disease scenario in 7MM. The Hypertriglyceridemia epidemiology segment covers the epidemiology data in the US, EU5 countries (Germany, Spain, Italy, France, and the UK), and Japan from 2017 to 2030. It also helps to recognize the causes of current and forecasted trends by exploring numerous studies, survey reports and views of key opinion leaders.
Hypertriglyceridemia Epidemiology
HTG can be divided into primary and secondary types. In primary HTG, chylomicrons normally are cleared rapidly from plasma by lipoprotein lipase with apolipoprotein (apo) C-II as a cofactor—familial chylomicronemia (hyperlipoproteinemia type 1, in the Fredrickson system) and primary mixed hyperlipidemia (type 5) are each characterized by the pathologic presence of chylomicrons after a 12–14 h period of fasting—whereas, in secondary HTG, obesity is probably the metabolic stressor most frequently associated with hypertriglyceridemia, although associations with poorly controlled type 2 diabetes and excessive alcohol consumption are also common (associated with a secondary cause/acquired).
Key facts of the report
In the National Health and Nutrition Examination Survey (NHANES), from 1999 to 2004, about a third of participants had serum triglycerides above 150 mg/dL. In subjects aged 60 years or older, the prevalence was 42%, and 2% of subjects with hypertriglyceridemia had triglycerides of more than 500 mg/dL.
According to Karanchi et al. (2019), the incidence of hypertriglyceridemia also varies by race, with a higher incidence observed in Hispanic-Americans and Asian-Indians, and lower incidence in African-Americans who generally have lower triglyceride levels. In addition, severe hypertriglyceridemia is the third leading cause of pancreatitis in the United States.
The National Cholesterol Education Program (NCEP) Adult Treatment Panel III (ATP III) defined elevated triglycerides as 150 mg/dL and higher. Using that criterion, the Third National Health and Nutrition Examination Survey (NHANES) found that the prevalence of hypertriglyceridemia in US adults aged 20 years and older was approximately 35% in men and 25% in women.
Hypertriglyceridemia Report Scope
The Hypertriglyceridemia report covers a detailed overview explaining its causes, symptoms, classification, pathophysiology, diagnosis and treatment patterns
The Hypertriglyceridemia Epidemiology Report and Model provide an overview of the risk factors and global trends of Hypertriglyceridemia in the seven major markets (7MM:US, France, Germany, Italy, Spain, UK, and Japan)
The report provides insight about the historical and forecasted patient pool of Hypertriglyceridemia in seven major markets covering the United States, EU5 (Germany, Spain, France, Italy, UK), and Japan
The report helps to recognize the growth opportunities in the 7MM with respect to the patient population
The report assesses the disease risk and burden and highlights the unmet needs of Hypertriglyceridemia
The report provides the segmentation of the Hypertriglyceridemia epidemiology
Request for free sample page:- https://www.delveinsight.com/sample-request/hypertriglyceridemia-epidemiology-forecast
Table of content
1. Key Insights
2. Executive Summary of Hypertriglyceridemia
3. Hypertriglyceridemia: Disease Background and Overview
4. Patient Journey
5. Epidemiology and Patient Population
6. Treatment Algorithm, Current Treatment, and Medical Practices
7. KOL Views
8. Unmet Needs
9. Appendix
10. DelveInsight Capabilities
11. Disclaimer
12. About DelveInsight
Why should you buy this report?
The Hypertriglyceridemia Epidemiology report will allow the user to –
Develop business strategies by understanding the trends shaping and driving the global Hypertriglyceridemia market
Quantify patient populations in the global Hypertriglyceridemia market to improve product design, pricing, and launch plans
Organize sales and marketing efforts by identifying the age groups and sex that present the best opportunities for Hypertriglyceridemia therapeutics in each of the markets covered
Understand the magnitude of Hypertriglyceridemia population by its epidemiology
The Hypertriglyceridemia Epidemiology Model developed by DelveInsight is easy to navigate, interactive with dashboards, and epidemiology based with transparent and consistent methodologies. Moreover, the model supports data presented in the report and showcases disease trends over 11-year forecast period using reputable sources
Related Reports
About Us
DelveInsight is a Business Consulting and Market research company, providing expert business solutions for life science vertical and offering quintessential advisory services in the areas of R&D, Strategy Formulation, Operations, Competitive Intelligence, Competitive Landscaping, and Mergers & Acquisitions.
Media Contact
Company Name: DelveInsight Business Research LLP
Contact Person: Yash Bhardwaj
Email: Send Email
Phone: +919650213330
Address:304 S. Jones Blvd #2432
City: Las Vegas
State: NV
Country: United States
Website: https://www.delveinsight.com/