Rapid Smartphone Adoption To Take Webgame Market to $6.5 Billion by 2030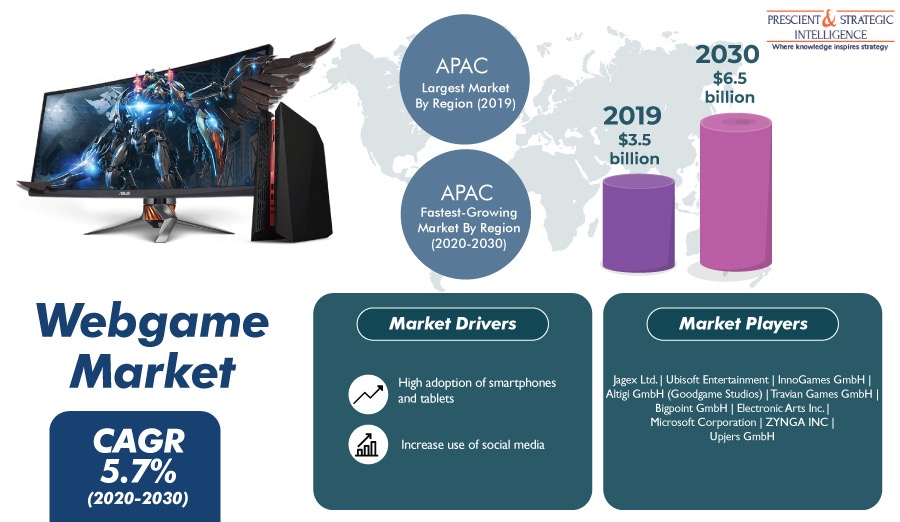 The global webgame market is advancing at a 5.7% CAGR during the forecast period by P&S Intelligence.
The global webgame market size is predicted to generate a revenue of $6.5 billion by 2030, rising from $3.5 billion in 2019, advancing at a 5.7% CAGR during 2020–2030, according to a study conducted by P&S Intelligence. Other than growing use of smartphones, the rising utilization social media is also resulting in the growth of the market across the globe. At the present time, Facebook, Instagram, and Twitter are introducing various forms of social interaction.
User can usually play such games against the computer that makes use of some AI element. These games offer more freedom to gamers in comparison to multi-player games, since they do not have to depend on other players for different activities. Ascribed to this, a large number of people prefer to play individual games rather than multiplayer games. Webgames can be scenario based, turn based, and real-time. Out of these, the popularity of real-time games has been increasing swiftly across the globe.
Download sample copy of this report: https://www.psmarketresearch.com/market-analysis/webgame-market-insights/report-sample
The popularity of these was the highest during 2014–2019 as well, as they offer real-time interaction among players. Owing to their thrill of on-the-spot strategy making and fast-paced nature, real-time games are increasingly surpassing the other variants. Kantai Collection, Ikariam, Habbo Hotel, and FusionFall are some of the very popular real-time games. Webgames also have different genres, namely arcade, first-person shooter, sports games, MMORPG, and real-time strategy games, among which, the popularity of first-person shooter games has been increasing swiftly.
These games are played from the protagonist's viewpoint, which makes them thrilling for gamers. Moreover, these games are shorter than other variants, and hence are gaining popularity. Geographically, the Asia-Pacific (APAC) region emerged as the largest webgame market in the past, and the situation is likely to be the same in the coming years as well. The growing penetration of tablets, laptops, personal computers, and the internet are driving the regional domain.
Browse full report at: https://www.psmarketresearch.com/market-analysis/webgame-market-insights
Market Size Breakdown by Segment
By Player Type
By Gameplay
Real-Time
Turn Based
Scenario Based
By Model
By Group
13–17
18–24
25–34
35–54
Above 55
By Genre
Real-Time Strategy Games
MMORPG
Sports Games
First-Person Shooter
Arcade
By Region
North America
Europe

U.K.
Germany
Italy
France
Spain

Asia-Pacific (APAC)

China
Japan
India
South Korea
Australia

Latin America (LATAM)
Middle East and Africa (MEA)

Saudi Arabia
Turkey
U.A.E.
Iran
Browse More Reports
Web Conferencing Market – https://www.psmarketresearch.com/market-analysis/web-conferencing-market-report
Web Content Management Market – https://www.psmarketresearch.com/market-analysis/web-content-management-market
Media Contact
Company Name: P&S Intelligence
Contact Person: Abhishek
Email: Send Email
Phone: +918887787886
Address:Noida Sector 2
City: Noida
State: UP
Country: India
Website: https://www.psmarketresearch.com/market-analysis/webgame-market-insights