Baby Diapers Market on Track To Hitting $97.7 Billion Valuation by 2030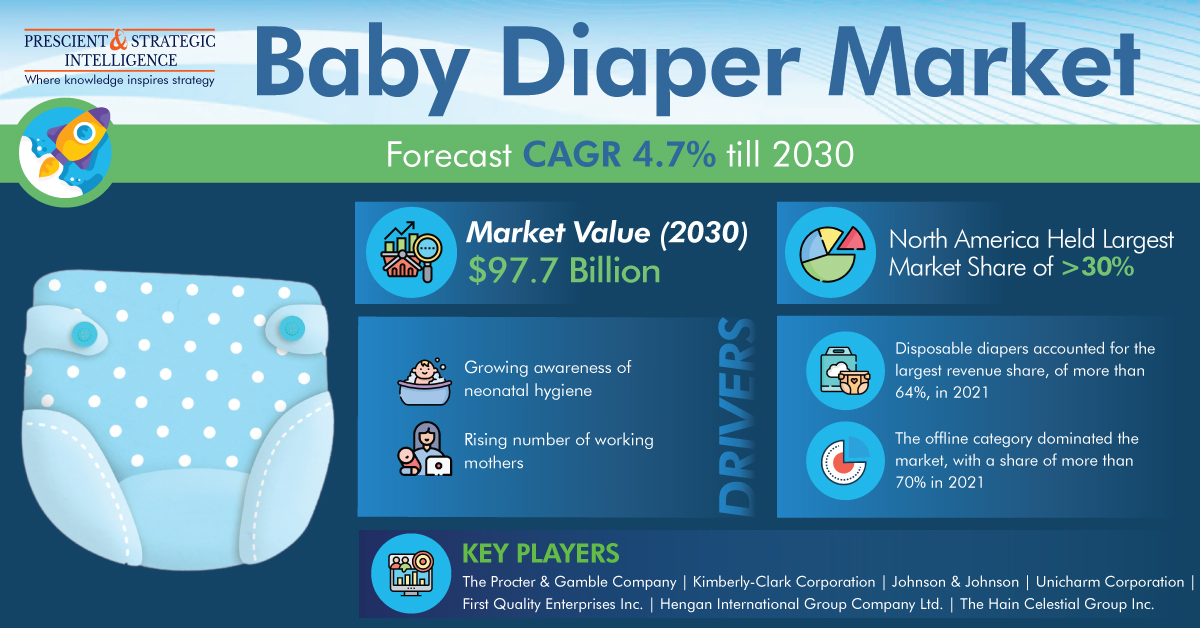 The skyrocketing demand for such products from developing nations, such as China and India, is expected to drive the Asia-Pacific baby diapers market at a CAGR of 5.3% over the next several years.
In 2021, the global baby diapers market accounted for a size of $64.6 billion, which is predicted to touch $97.7 billion by 2030, advancing at a 4.7% CAGR. This is owing to the surging awareness of people about the hygiene of their babies, escalating count of working women, launch of eco-friendly biodegradable diapers, and snowballing population.
Major Revenue Contributor Is Disposable Diapers
The disposable diapers category holds an over 64% revenue share in the market, due to the increasing population of newborns and surging disposable income in developing countries. The key role of such products is absorbing the liquids from the excrement of the baby, so the moisture does not make the child wake up or cry.
Additionally, it is predicted that in the coming years, the swim pants category will progress at a significant CAGR. This can be attributed to the growing awareness of infant hygiene, which is a result of the government initiatives in this area.
Request for sample pages of this report: https://www.psmarketresearch.com/market-analysis/baby-diapers-market/report-sample
Consumers Are Increasingly Using Offline Stores
In 2021, the offline category controlled a market share of over 70%. Product sales via conventional brick-and-mortar facilities are primarily driven by the better profit margin they offer due to their appeal among customers, which is why manufacturers prefer them over online channels.
Due to the rising internet penetration and the accessibility of a wide range of items, the online category is predicted to grow at the higher CAGR in the coming years. Customers are moving to online retailers and taking benefit of offers and discounts, at the same time avoiding the hassle of physical shopping.
Why Baby Diaper Demand Continues To Boom in North America?
With a share of over 30%, North America leads the market for baby diapers. The growing purchasing power of consumers allows them to purchase high-quality baby products, which are generally expensive.
Moreover, personal care companies are focusing on natural ingredients, efficiency enhancements, and hygiene to appeal to urban parents, as the need for organic and natural products grows in the U.S.
Europe had a significant market share in 2021 too, due to women's increasing awareness of newborn hygiene.
Browse detailed report on Baby Diapers Market Size, Share, Development and Demand Forecast to 2030
Hybrid Diapers Are Crucial for Baby Hygiene
G-pants are reusable inserts for hybrid diapers that can absorb the baby's output and are disposable. Almost 10 billion disposable diapers are thrown in landfills annually; however, they decompose over 10 years or even longer. G-diapers are more environment-friendly than the conventional disposable diapers, since they are biodegradable and organic.
Baby Diaper Market Size Breakdown by Segment
By Product Type
Cloth Diapers
Disposable Diapers
Biodegradable Diapers
Training Nappy
Swim Pants
By Distribution Channel
Regional Analysis
North America
Europe

Germany
France
U.K.
Italy
Spain

Asia-Pacific

China
India
Japan
South Korea
Australia

Latin America
Middle East and Africa

Saudi Arabia
South Africa
Browse more reports:
Global Diaper Market Trends, Development and Demand Forecast to 2030
Global Baby Food Market Analysis, Development and Demand Forecast to 2030
About P&S Intelligence
P&S Intelligence provides market research and consulting services to a vast array of industries across the world. As an enterprising research and consulting company, P&S believes in providing thorough insights on the ever-changing market scenario, to empower companies to make informed decisions and base their business strategies with astuteness. P&S keeps the interest of its clients at heart, which is why the insights we provide are both honest and accurate. Our long list of satisfied clients includes entry-level firms as well as multi-million-dollar businesses and government agencies.
Media Contact
Company Name: P&S Intelligence
Contact Person: Abhishek
Email: Send Email
Phone: +918887787886
Address:Noida Sector 2
City: Noida
State: UP
Country: India
Website: https://www.psmarketresearch.com/market-analysis/baby-diapers-market