CCE Announces the Ultimate Product Design Discussion Hub

EnSuite ReVue allows users to invite, evaluate and discuss 2D & 3D CAD designs.
Farmington Hills, MI, USA – January 18, 2023 – CCE, a leading provider of advanced CAD interoperability solutions, announced the release of its new design collaboration software, EnSuite ReVue. EnSuite ReVue allows users to securely share 2D & 3D CAD design data with their team or with partners and suppliers to solicit feedback and discuss design changes.
Users can review designs from all major CAD systems including CATIA V5, 3DXML, NX, Creo, SOLIDWORKS, Inventor, Solid Edge, JT, Parasolid and glTF among others. They can not only evaluate the designs independently using the wide range of productivity tools (measure, section views, bounding box, explode assembly, move components etc.), but also share the data with others using secure URL. Stakeholders can access the CAD design using the secure link and add their feedback.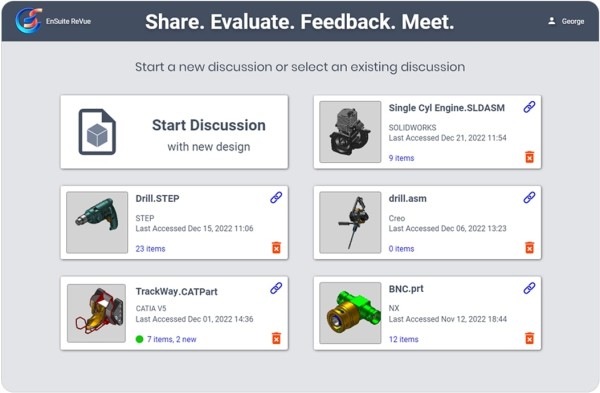 EnSuite ReVue provides the most complete design discussion platform allowing users the ability to share 2D & 3D CAD designs with all stakeholders and solicit feedback using a secure link. Contributors can then participate in the design discussion to:
• View 2D & 3D CAD designs
• Provide feedback on the design via simple notes and markups
• Record voice messages with dynamic 3D Graphics for detailed feedback
• Participate in real-time meetings with full audio and local control of 3D and 2D for a dynamic collaboration experience
All discussions for each CAD design are organized chronologically in one place and accessible to all stakeholders via an intuitive graphical dashboard, so that there is complete visibility and accountability of the product design discussion process.
"Design discussions and product reviews are done largely using a mix of CAD, 3rd party viewer tools, data management tools, screen-sharing software or home-grown solutions. All the existing solutions, individually or collectively, are either grossly deficient or needlessly complicated for most product design reviews. EnSuite ReVue offers users the ability to share their CAD designs securely with all participants using a unique mix of asynchronous and real-time mechanisms for stakeholders to provide feedback on the designs. All the feedback is compiled and presented in a very graphical and intuitive dashboard. EnSuite ReVue is by far the most comprehensive product design discussion platform in the marketplace," said Vinay Wagle, CCE's V.P. of Sales and Marketing.
Users can visit the EnSuite ReVue page for additional product and pricing information.
About CCE:
Incorporated in Michigan, CCE has more than 30 years of CAD/CAM/CAE software development experience, as well as an extensive background in related services. Since 1989, CCE's focus on CAD technology & application development has spearheaded its mission to deliver customers value through innovative, disciplined, and communications-focused technology products and services. CCE has offices located in Farmington Hills, Michigan and Fort Lee, New Jersey.
For more information on CCE's products and services, visit www.cadcam-e.com.
Connect with CCE on:
• Twitter – https://twitter.com/cadcame
• Facebook – https://www.facebook.com/cadcame
Media Contact
Company Name: CCE
Contact Person: Debankan Chattopadhyay
Email: Send Email
Phone: +1 (248) 932-5295
Address:31700 W. Thirteen Mile Road, Suite 115
City: Farmington Hills
State: MI 48334
Country: United States
Website: www.cadcam-e.com