Congenital Hyperinsulinism Clinical Trials, Emerging Therapies, Key Companies | A Drug Pipeline Analysis Report 2023 | DelveInsight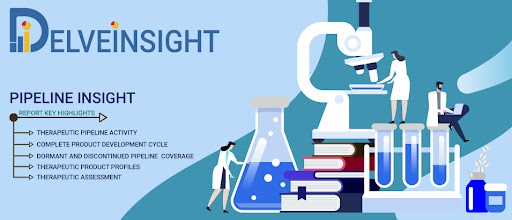 DelveInsight's, "Congenital Hyperinsulinism – Pipeline Insight, 2023," report provides comprehensive insights about 4+ companies and 6+ pipeline drugs in Congenital Hyperinsulinism pipeline landscape. It covers the pipeline drug profiles, including clinical and nonclinical stage products. It also covers the therapeutics assessment by product type, stage, route of administration, and molecule type. It further highlights the inactive pipeline products in this space.
DelveInsight's 'Congenital Hyperinsulinism Pipeline Insight 2023' report provides comprehensive global coverage of available, marketed, and pipeline Congenital Hyperinsulinism therapies in various stages of clinical development, major pharmaceutical companies are working to advance the pipeline space and future growth potential of the Congenital Hyperinsulinism pipeline domain.
Key Takeaways from the Congenital Hyperinsulinism Pipeline Report
Over 6+ Congenital Hyperinsulinism pipeline therapies are in various stages of development, and their anticipated acceptance in the Congenital Hyperinsulinism market would significantly increase market revenue.
Leading Congenital Hyperinsulinism companies developing novel drug candidates to improve the Congenital Hyperinsulinism treatment landscape include Eiger Bio, and others.
Promising Congenital Hyperinsulinism pipeline therapies in various stages of development include Avexitide, and others.
Congenital Hyperinsulinism Overview
Congenital hyperinsulinism is a rare, genetic, pediatric endocrine disorder that leads to the inappropriate secretion of the hormone insulin by the pancreas. High levels of insulin in the blood result in episodes of low blood sugar or hypoglycemia with associated suppression of ketone bodies, the only other potential source of fuel to the glucose-dependent brain. Repeat episodes and/or dangerously low blood sugars increase the risk of neurological and developmental complications, including persistent feeding problems, learning disabilities, recurrent seizures, and/or brain damage, or even death.
Existing medical options were not developed for CHI and are often either ineffective since certain groups of patients do not respond to these therapies, or are associated with substantial side effects that discourage compliance and lead to suboptimal treatment outcomes. Surgical removal of the pancreas is also an option, but this approach is invasive, may require repeat surgery, and ultimately leads to the development of lifelong insulin-dependent diabetes.
CHI is a rare pediatric disease that affects mainly newborns, infants and toddlers. Due to a genetic defect in the insulin producing cells, these children have increased insulin levels, resulting in persistent and recurrent hypoglycemia throughout childhood. Current treatment options are limited, complex and may be insufficient to adequately control hypoglycemia.
Request for a sample page report to know more about congenital hyperinsulinism treatment algorithm and diagnosis.
Congenital Hyperinsulinism Pipeline Analysis: Drug Profile
Avexitide: Eiger Bio
Avexitide is an investigational, first-in-class glucagon-like peptide-1 receptor (GLP-1r) antagonist in development for the treatment of congenital hyperinsulinism (HI) and post-bariatric hypoglycemia (PBH). Avexitide has been granted Breakthrough Therapy designation for both HI and PBH. By binding to the GLP-1r on pancreatic beta cells and preventing GLP-1r signaling, avexitide works upstream of beta cell insulin secretion to reduce dysregulated insulin secretion and the occurrence of hypoglycemia. By addressing underlying disease mechanisms, avexitide may offer a targeted approach to treating hypoglycemia in patients with hyperinsulinemic hypoglycemia, including HI and PBH. Eiger has developed a novel formulation of avexitide for subcutaneous injection.
Discover more about the emerging Congenital Hyperinsulinism drugs @ Congenital Hyperinsulinism Treatment Drugs
Congenital Hyperinsulinism Key Companies
Congenital Hyperinsulinism Pipeline Therapies
Congenital Hyperinsulinism Pipeline Therapeutics Assessment
By development stage
By product type
By route of administration
By molecule type
By MOA type
Scope of the Congenital Hyperinsulinism Pipeline Report
Coverage: Global
Key Congenital Hyperinsulinism Companies: Eiger Bio, and others
Key Congenital Hyperinsulinism Pipeline Therapies: Avexitide, and others
Find out more about the Congenital Hyperinsulinism treatment options in development @ Congenital Hyperinsulinism Clinical Trials
Table of Contents
1. Introduction
2. Executive Summary
3. Overview
4. Pipeline Therapeutics
5. Late-Stage Products (Phase III)
6. Mid-Stage Products (Phase II)
7. Early Stage Products (Phase I/II)
8. Preclinical Stage Products
9. Discovery Stage Products
10. Therapeutic Assessment
11. Inactive Products
12. Collaborations Assessment- Licensing / Partnering / Funding
13. Unmet Needs
14. Market Drivers and Barriers
15. Appendix
16. About DelveInsight
Other Trending Reports:
Asthma Diagnostic Devices Market
Chronic Obstructive Pulmonary Disease Treatment Devices Market
Airway Management Devices Market
Cough Assist Devices Market
Pulse Oximeters Market
Hemodialysis Catheter Devices Market
Chronic Spontaneous Urticaria Market
Gender Dysphoria Market
Germany Healthcare Outlook
Biopsy Devices Pipeline Insight
Bacterial Conjunctivitis Market
Infliximab Biosimilar Insight
Eosinophilic Asthma Market
Cushing Syndrome Market
About DelveInsight
DelveInsight is a leading Business Consultant and Market Research firm focused exclusively on life sciences.
Contact Us
Kritika Rehani
+1(919)321-6187
Media Contact
Company Name: DelveInsight Business Research LLP
Contact Person: Kritika Rehani
Email: Send Email
Phone: 9193216187
Address:304 S. Jones Blvd #2432
City: Las Vegas
State: Nevada
Country: United States
Website: https://www.delveinsight.com/