How To Give Your Kids A Lift: 9 Divine Life Saving Tools By Marlene Harper
'How To Give Your Kids A Lift' is a new book for parents, grandparents, caregivers and teenagers written by Marlene Grace Harper. The book uses practical language and supplies an essential toolkit to address the really serious issue of suicide. It offers the wisdom and insight needed to provide a mental and emotional pick-me-up for children or adults recovering from all kinds of traumatic experiences. It can also help flag the early warning signs that are indicative of suicidal ideation.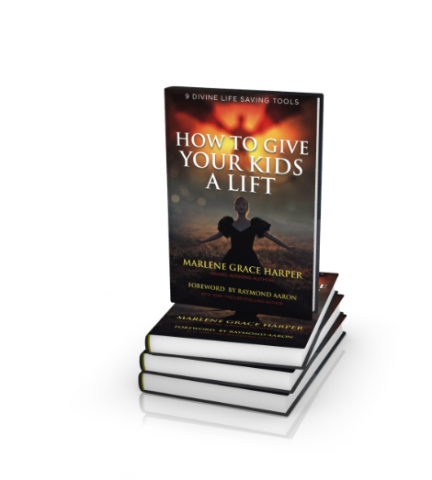 Suicides are a growing problem in the sophisticated western world, and caregivers need the ability to bring their loved ones back from their dark places and into the light, particularly after the kind of earth shattering experience that can blight a life. Marlene's book offers readers the learning needed to empower themselves or others by using written stories to solve problems and create the "compliments" which can also be used as a tool.
'How to Give your Kids a Lift: 9 Divine Life Saving Tools' is an engaging combination of real-life stories about people in crisis and the tools they can use to raise themselves up. Marlene says her simplified statement is: "I create." She goes on to say, "I empower people, helping them to live in the present with the understanding that life is a gift to be enjoyed fully. Suicide is never a good choice. There are better ways, better tools and better people to help you when you most need them. It just makes sense to prepare for such times in advance."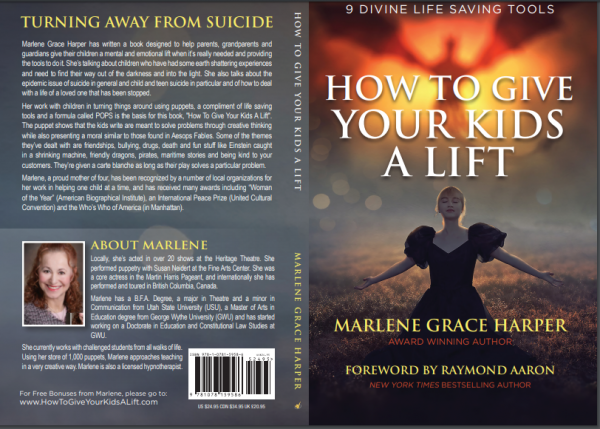 Marlene has received countless awards, including the "Woman of the Year Award" from the American Biographical Institute, and an International Peace Prize from the United Cultural Convention. She is the mother of four children and is listed in the Who's Who of America (Manhattan edition). Her qualifications include a B.F.A. Degree, with a major in Theatre and a minor in Communication from Utah State University and an Education degree from George Wythe University. Marlene is also a licensed hypnotherapist.
She has an extensive store of 1,000 different puppets that she uses with challenged students, alongside carrying out public speaking engagements. This part of her business is focused on empowering children and her motto is: "Come play with us."
Find out more about Marlene's book and the valuable bonus offers included with any purchase online at HowToGiveYourKidsALift.com. It's also possible to get in touch with Marlene direct via her email at: [email protected]
Marlene Harper's book is also available on Amazon to purchase:
http://www.amazon.com/How-Give-Your-Kids-Lift/dp/1078159580
Media Contact
Contact Person: Marlene Harper
Email: Send Email
Country: United States
Website: http://www.howtogiveyourkidsalift.com/