Cholestatic Pruritus Pipeline Insights and Emerging Therapies 2021 by DelveInsight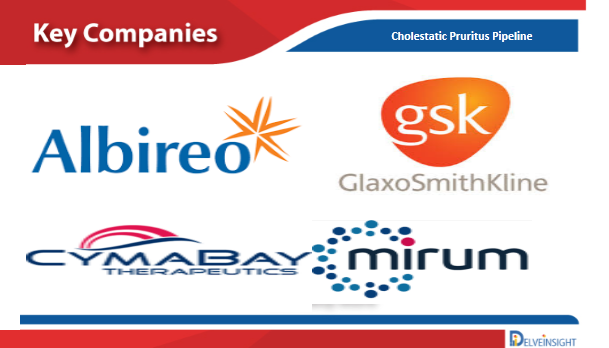 DelveInsight has launched a new report on Cholestatic Pruritus Pipeline
Cholestasis is defined as a decrease in bile flow due to the impaired secretion by hepatocytes or due to the obstruction of bile flow through intra-or extra-hepatic bile ducts. This impairment in bile secretion occurs at somewhere between the liver cells (which produce bile) and the duodenum (the first segment of the small intestine).
Browse Free Sample copy- https://www.delveinsight.com/sample-request/cholestatic-pruritus-pipeline-insight
Cholestatic Pruritus Pipeline analysis across different stages of development (Phase I, II, and III), different emerging trends and comparative analysis of Cholestatic Pruritus Pipeline products with detailed clinical profiles, key competitors, launch date along with product development activities.
Cholestatic Pruritus Pipeline
The dynamics of Cholestatic Pruritus market is anticipated to change in the coming years owing to the improvement in the diagnostic methodologies, raising awareness of the diseases, incremental healthcare spending across the world, and also expects the launch of emerging therapies during the forecast period of 2020–2030. Major Pharma giants are thoroughly working toward the development of new treatment therapies for this indication, in order to provide better relief for the symptoms and hence improve the QoL of patients with Cholestasis.
Cholestatic Pruritus Symptoms
Pruritus is a distressing manifestation of both intrahepatic cholestasis and extrahepatic biliary obstruction. Intrahepatic cholestasis processes associated with pruritus include Primary Biliary Cirrhosis (PBC), and cholestasis of pregnancy (pruritus gravidarum), drug-induced cholestasis, and viral hepatitis. However, pruritus is also seen in extrahepatic cholestatic liver diseases such as primary sclerosing cholangitis (PSC), and cancer of the head of the pancreas. Historically, pruritus has been observed to accompany jaundice, but it is not uncommon to see pruritus as the first manifestation of cholestasis even before the onset of jaundice or other symptoms. There is considerable variation in the frequency and prevalence of pruritus in different cholestatic conditions.
Emerging therapies included in the report
Seladelpar: Cymabay Therapeutics
Odevixibat: Albireo Pharma
GSK2330672: GlaxoSmithKline
Maralixibat: Mirum Pharmaceuticals
Korsuva: Care Pharmaceuticals
Cholestatic Pruritus Treatment
Efficient drug discovery has been hindered by a lack of robust knowledge of the molecular mechanisms of Cholestatic Pruritus. However, recent evidence on autotaxin, lysophosphatidic acid (LPA), and advances in bile acid physiology have initiated the development of novel agents that might represent an alternative to currently ongoing research on the so far enigmatic pathophysiology of cholestatic itch may provide us with new therapeutic targets in the near future current treatments. Experimental evidence has shown that autotaxin and LPA are markedly elevated in the serum of patients with Cholestatic Pruritus and that their levels closely correlate with itch intensity.
Cholestatic Pruritus Report Scope
The Cholestatic Pruritus report provides an overview of therapeutic pipeline activity and therapeutic assessment of the products by development stage, product type, route of administration, molecule type, and MOA type for Cholestatic Pruritus across the complete product development cycle, including all clinical and nonclinical stages.
It comprises of detailed profiles of Cholestatic Pruritus therapeutic products with key coverage of developmental activities, including technology, collaborations, licensing, mergers and acquisition, funding, designations and other product-related details
Detailed Cholestatic Pruritus research and development progress and trial details, results wherever available, are also included in the pipeline study.
Coverage of dormant and discontinued pipeline projects along with the reasons if available across Cholestatic Pruritus.
Browse Free Sample copy- https://www.delveinsight.com/sample-request/cholestatic-pruritus-pipeline-insight
Table of content
1. Report Introduction
2. Cholestatic Pruritus
3. Cholestatic Pruritus Current Treatment Patterns
4. Cholestatic Pruritus – DelveInsight's Analytical Perspective
5. Therapeutic Assessment
6. Cholestatic Pruritus Late Stage Products (Phase-III)
7. Cholestatic Pruritus Mid Stage Products (Phase-II)
8. Early Stage Products (Phase-I)
9. Pre-clinical Products and Discovery Stage Products
10. Inactive Products
11. Dormant Products
12. Cholestatic Pruritus Discontinued Products
13. Cholestatic Pruritus Product Profiles
14. Cholestatic Pruritus Key Companies
15. Cholestatic Pruritus Key Products
16. Dormant and Discontinued Products
17. Cholestatic Pruritus Unmet Needs
18. Cholestatic Pruritus Future Perspectives
19. Cholestatic Pruritus Analyst Review
20. Appendix
21. Report Methodology
What are the report highlights?
A better understanding of disease pathogenesis contributing to the development of novel therapeutics for Cholestatic Pruritus.
In the coming years, the Cholestatic Pruritus market is set to change due to the rising awareness of the disease, and incremental healthcare spending across the world; which would expand the size of the market to enable the drug manufacturers to penetrate more into the market.
The companies and academics that are working to assess challenges and seek opportunities that could influence Cholestatic Pruritus R&D. The therapies under development are focused on novel approaches to treat/improve the disease condition.
A detailed portfolio of major pharma players who are involved in fueling the Cholestatic Pruritus treatment market. Several potential therapies for Cholestatic Pruritus are under investigation. With the expected launch of these emerging therapies, it is expected that there will be a significant impact on the Cholestatic Pruritus market size in the coming years.
Our in-depth analysis of the pipeline assets (in early-stage, mid-stage and late stage of development for the treatment of Cholestatic Pruritus) includes therapeutic assessment and comparative analysis. This will support the clients in the decision-making process regarding their therapeutic portfolio by identifying the overall scenario of the research and development activities.
Related Reports
Media Contact
Company Name: DelveInsight Business Research LLP
Contact Person: Yash Bhardwaj
Email: Send Email
Phone: +919650213330
Address:304 S. Jones Blvd #2432
City: Las Vegas
State: NV
Country: United States
Website: https://www.delveinsight.com/