The Satellite Data Services Market Soars to New Heights, Projected to Reach USD 16.7 Billion by 2026, at a CAGR of 23.0%
The Global Satellite Data Services Market Size was valued at $8.9 Billion in 2023 and to reach $16.7 billion in 2026, growing at a Compound Annual Growth Rate (CAGR) of 23.0% from 2022 to 2027.
CHICAGO, Nov 6, 2023 – With a valuation of USD 5.9 billion in 2021, the global Satellite Data Services Market is expanding at an astounding rate. Forecasts place it at USD 8.9 billion by 2023 and an astounding USD 16.7 billion by 2026. This phenomenal expansion, with an astounding Compound Annual Growth Rate (CAGR) of 23.0%, is revealed in an extensive market study carried out by MarketsandMarkets, a well-known market research and consulting company. The study offers insightful information on the major market segments, factors driving growth, obstacles, chances, and prominent players for satellite data services.
• Informational PDF Brochure:- https://www.marketsandmarkets.com/pdfdownloadNew.asp?id=55690321
Key Segments:
The Satellite Data Services Market encompasses several key segments, including:
Data Type: This segment covers various data types, including imagery data, weather data, Earth observation data, and communication data, catering to diverse applications.
Vertical: Key verticals include agriculture, defense, energy, transportation, and environmental monitoring, highlighting the wide-ranging applications of satellite data services.
End User: The analysis includes government, commercial, and academic end users, reflecting the multiple sectors benefiting from satellite data.
Region: The market analysis spans regions across the globe, including North America, Europe, Asia Pacific, and the Rest of the World.
Browse 258 market data Tables and 49 Figures spread through 287 Pages and in-depth TOC on "Satellite Data Services Market – Global Forecast to 2026".
View detailed Table of Content here – https://www.marketsandmarkets.com/Market-Reports/satellite-data-services-market-55690321.html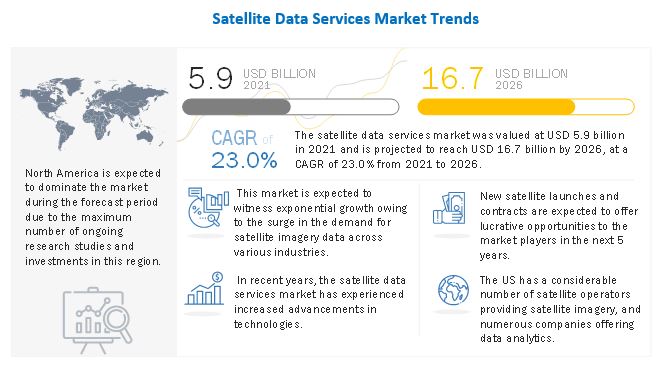 Growth Drivers:
The robust growth of the Satellite Data Services Market can be attributed to various drivers, including:
Remote Sensing Technology: Advancements in remote sensing technology have expanded the range of applications for satellite data services, from environmental monitoring to disaster management.
Precision Agriculture: The agriculture sector leverages satellite data for precision farming, optimizing crop management, and resource allocation.
Military and Defense: Satellite data services play a crucial role in defense and surveillance, offering real-time insights and intelligence.
Climate Change Mitigation: Environmental monitoring using satellite data helps track climate change, natural disasters, and resource management.
Challenges:
Despite the market's growth potential, it faces certain challenges, including:
Data Security and Privacy: Handling sensitive data, especially in defense and government sectors, requires robust security measures.
Cost and Accessibility: Some regions and organizations may face barriers due to the high cost of satellite data services and limited access.
Data Accuracy and Resolution: Ensuring the accuracy and resolution of satellite data for various applications can be a challenge.
Opportunities:
The market presents several opportunities, including:
IoT Integration: Integrating satellite data services with the Internet of Things (IoT) opens new avenues for real-time monitoring and data collection.
Global Expansion: Expanding satellite data services to emerging markets and underserved regions offers new revenue streams.
Climate Change Mitigation: The growing focus on environmental sustainability creates opportunities for satellite data in climate change mitigation.
Key Players:
Key players in the global Satellite Data Services market include:
Airbus S.A.S., Maxar Technologies Inc., Thales Group, SES S.A., Lockheed Martin Corporation, Thuraya Telecommunications Company, Trimble Inc., L3Harris Technologies, Inc., Viasat, Inc., Raytheon Technologies Corporation.
These market leaders are actively shaping the satellite data services landscape, driving innovation, and expanding the applications of satellite data.
As the Satellite Data Services market experiences an impressive growth rate of 23.0%, it continues to be a critical enabler of data-driven decision-making across a multitude of sectors, from agriculture and defense to environmental protection and beyond.
For more insights and a comprehensive analysis of the market, please refer to the full report by MarketsandMarkets.
Media Contact
Company Name: MarketsandMarkets™ Research Private Ltd.
Contact Person: Mr. Aashish Mehra
Email: Send Email
Phone: 18886006441
Address:630 Dundee Road Suite 430
City: Northbrook
State: IL 60062
Country: United States
Website: https://www.marketsandmarkets.com/Market-Reports/satellite-data-services-market-55690321.html